Members of the Picardy Sheepdog Club of the UK:
I am Steve Bennett. I have been around dogs all my life, either working with them, or as pets, and come from generations of farmers. I first saw a Picard in Northern France decades ago, and was intrigued – not just by their looks, but by their character too. I have been a Club member for many years and when I was asked if I would handle Nelson in the ring, I did not hesitate. As a Police Officer for 30 years, I was fortunate to be an instructor/trainer, followed by a Wildlife Crime Officer, before retiring. I have also owned Belgian Shepherds since before they became well known and popular as working dogs, many of which (true to their breeding origins and purpose) share character and temperament similarities. I am involved in helping and organising events including Redditch and the National Rare & Import Breeds Show and represent such breeds including the Picardy wherever needed for their benefit and inclusion. 
My name is Katie Anakin, I live in the Merseyside area with my lovely Fawn bitch Raichu. I first discovered the Picardy back in 2013 while researching my first dog: a Briard. I kept my eye on the breed for many years until we were ready to welcome a second dog into the family. Rai is my assistance dog and helps me daily with things around the house. I love her intelligence and watching her figure out new tasks. I am the breed Behaviour and Training Advisor with a degree in Animal Behaviour and a postgraduate in Clinical Behaviour from Edinburgh veterinary school.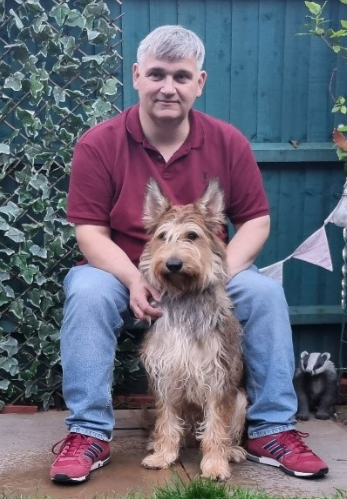 Hi, I am Lawrence Dalby. I live with Sherri, who is 2years old. I first came across the Picardy Sheepdog with the help of my wife Christina, she fell in love with the breed back in 2019. I was like "Yeah, yeah, sure, we can get a puppy" (just a pipe dream, happy wife = happy life scenario). Then one day at work late 2021, I called Christina to catch up and she said, "I have found a puppy; you are driving to the South of France to get her!"  "That's cool" I replied. Having never driven on the wrong side of the road before, I knew I had to go alone. Once I had collected Sherri, I stopped every 100 km on the drive back to introduce myself and to build up our relationship, so that when we met the nice border control officers to show our papers, she would be settled and calm.  Most journeys with a puppy you have just met for the first time can be very daunting: they cry, a lot. Sherri, however, was a true star. She laid in the back of the car listening to me singing songs, mostly Arsenal songs. My most favourite aspect of the breed is the way Sherri will nose nudge you when she wants something: food, a toy, a walk or even to go to bed.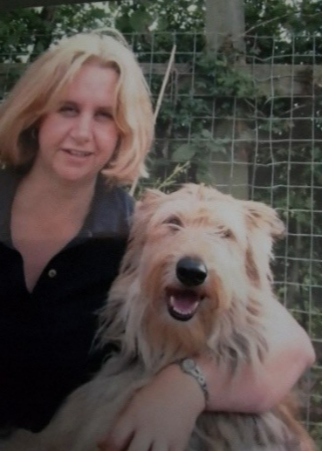 I am Shirl Hitchman (soon to be Treadwell). I was Chair of the Picardy Sheepdog Club of the UK in its formative years and stepped down from the role in 2023 in order to concentrate on the Puppy Coordinator role, helping countless guardians to source their Picard pup. I am also the Club's Welfare and Rescue Coordinator, but thankfully due to our commitment to providing excellent breed information, very few Picards have needed to be rehomed. I am also the Breed Health Coordinator, looking out for the future health and conservation of the breed.  I live in the Midlands and first came across the breed 23 years ago, fell in love with them and have owned 16 over the years. I currently have Huffle, a fawn male who is 11 years old and Molly, a brindle 7-year-old bitch. I have worked in the animal sector for over 40 years starting as a zookeeper and then qualifying as a pet care professional in 1996. My passion is observing canine body language and Picards are perfect for me to study and communicate with. I think I can take the blame for the breed becoming better known and established in the UK. Although no longer working I still keep busy looking out for the breed. 
I am Nicky King and live with two Picards, Clicquot (5 years old) and her daughter Skyler (2 years old) in Rutland, along with four German Shepherd Dogs. I first came across a Picard whilst on holiday in France in 2014 and was smitten on sight. After much research and much patience, we became the proud owner of Nutmeg of Shropshire (Clicquot) in 2017. Clicquot had a litter of six beautiful puppies in July 2021, one of which was just too precious to give to a new home!  I am a qualified canine rehabilitation therapist, canine behaviourist, canine trainer, and canine sonographer.  I have run a Puppy School franchise for a number of years and have a day job as a secondary school teacher of Economics A level.
Hello, my name is Christina Dalby we are honoured to share our lives with Sherri (our beautiful Picardy Sheepdog) and our beloved Border Collies. We are sure Sherri thinks she looks like them! I first came across the breed around 4 years ago and after a few heartbreaks on the way, two yearslater we had a phone call from Sherri's breeder in France. My husband drove to the south of France to bring Sherri home three and half months later, the rest, as they say, is history. We have shown and bred Border Collies for a round 25 years now and I love to judge: I give tickets in Border Collies and judge several other pastoral and working breeds. Sherri has been lightly shown and as mad as it sounds, she is my calming dog. I just adore her quirky ways. Owning any other breed does not prepare you for a Picard, but the rewards and love they give are second to none: I love the way she always checks on each of her Border Collies to make sure they are all ok. I can honestly say she makes me smile and laugh every day without fail, I love her goofy attitude to life and the look of "I know it was naughty to do that, but I had so much fun doing it!"  If I could give anyone one piece of advice it would be to live life like a Picard. 
I am Tracey Gray.  I have had Belgian Shepherds for 40 years, the first 30 years (almost) with Tervueren & the last 13 with a Laekenois. I have never managed my ambition of owning a Picard – Rodney my Laeken was supposed to be a Picard. Laekenois are not the easiest dogs either! I also have Kevin, a Griffon Bruxellois, and they are best mates.  My hobbies have been dog-related for 40+ years (as well as playing in a brass band), dabbling in agility, obedience (in another life I was a registered pet dog trainer) and showing. My Laekenois is now retired after a hugely successful show career, reaching heights not often seen for a rare breed, but you can find me at some shows stewarding, and occasionally judging too. I am a member of the Picardy Sheepdog Club due to my love of them and was instrumental in setting up the Club. Over the years, I have held many positions in the Club, most recently as Secretary.
Hi, we are Christal, Alex, and baby Layla, and we live with Enzo and Halo in Berkshire. Christal first came across the breed like many other who have watched the movies "Because of Winn Dixie" when it was released in 2005, then met the breed in person in 2014 at Crufts and has been falling further in love since. We love the quirky look and the strong individual personality of the breed. Enzo and Halo are both fawn Picards yet totally different in personality. They both very intelligent and good at different tasks yet share a few common quirks.  Layla said she loves how gentle Halo been with her and they love each other, Halo is always by her side. Enzo has been an awesome big brother and always looking out for her!  Christal is a Human and Veterinary Chiropractor. She enjoys keeping Enzo and Halo in tip top shape for shows and adventures all over UK and Europe.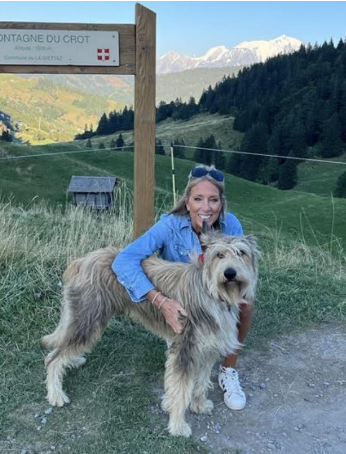 I am Keara Hooper and I live in London with the wonderful, young Wolfie who is now 2. I have had a dog, or dogs…4 at one point, for the past 40 years, varying from dachshunds to Picardy Shepherds. My husband and I stumbled across Picards at Discover Dogs originally, fell in love with them, did loads of research and were lucky enough to rehome Dora from France in 2018 when she, was 7. Having had a sad past, she was a challenge to start with but became the most wonderful calm lady. Sadly, we lost her after only 5 years in 2022. Now I have my second Picard, I am beginning to get a handle on what makes them tick. They are big, rather loud, particular, way more intelligent than me and very, very special. My working life was in fashion, running my own business in Islington for 20 years, but I am now retired and mainly just do dogs!  Living with Picards is like being on a wonderful rollercoaster and certainly keeps you busy. They are also love bundles and smile makers…I am just so lucky to have found the breed and to share my life with one.
Hi, I am Sue Jeavons, I fell in love with the Picardy Sheepdog/Berger Picard in 2011 and got my first Picard, Logan (Happy de Hagan Ava), in 2012. In 2017 I got my second Picard, Nelson (Multi Int Ch Pic d'Arlee Nelson avec Bergerpicard). I also have a Parson Russell Terrier called JoJo. I have been working with Shirl for many years now on the Picardy Sheepdog Committee and have held a number of positions including Vice Chair, Treasurer, Membership Secretary and had responsibilities for publicity and promotions. Over the years I have helped manage the Club website, the annual calendar, newsletter, posters, volunteer seminars and run Discover Dogs events, where we have twice won Best Pastoral Discover Dogs Booth and also won Best Overall Booth. Over the last 18 years I have spent a lot of time in France and Belgium, which meant I started showing my Picardy Sheepdogs at FCI shows across Europe, including at the French National Shows and French Championship Shows. Nelson has had fun learning basic agility and more recently hoopers, but really enjoys meeting people and giving out lots of French kisses and hugs. He has a daughter in Sweden who does scent work, including learning to search for people.  Logan is happier having fun with basic agility and obedience work 1-2-1 with me. I love spending time with all three of my dogs, whether that is chilling out, going for walks and bike rides, or having camping adventures across the UK and Europe.
Hi, I'm Sarah Medway and my husband Martin and we live in Kent with our Berger Picard, Lucca, Irish Terrier, Flynn and five Maine Coon cats. We first heard about the Picardy breed when trying to find out what breed Einstein was in the film 'Back to the Future' some 25 years ago. Various forums said he was a Berger Picard. He wasn't at all, but we fell in love with the breed. We parked the idea of getting a dog at that point in our lives and some years later started our Picard research and fate led us to Lucca, our first dog. She thrives on meeting people and all dogs, anything with a heart beat she feels she should befriend. I'm a freelance graphic designer and photographer and help out with design based projects for the club. I'm also a photography workshop leader at The Big Cat Sanctuary in Kent. Animals are a big part of my life, conservation and protection of some of the rarest cats and also our rare Picard breed are my passion.
Other members of the committee: Tina Pickering and Clive Pickering.